It was only natural for Fort Worth, Texas, native Austin O'Neal to attend Louisiana Tech. After all, his parents grew up in Choudrant, and he has many family members and friends who attended Tech.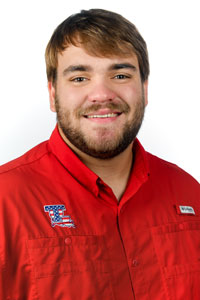 "I have always loved the area, and with a heavy family presence here, I feel like it is my home," O'Neal said. "When I graduated from high school, I applied to only one college, Louisiana Tech. I always knew this is where I wanted to be. I have taken the opportunity to attend Tech as a way to grow my connection with friends and family in the area I otherwise never would have, as well as make new friends, some being the best one could ever ask for. Louisiana Tech has taught me how to grow as a person, learn both academically and about life, how to work hard to achieve your goals, a place to chase the things that make you happy, and so much more."
O'Neal's father received his degree in Construction Engineering from Tech in 1986, and the pair shared involvement in construction projects and the outdoors.
"I love nature, and I love being outside, and over the course of my life it is a pastime that has morphed into a passion and a love that I have for nothing else," O'Neal said. "I am an avid hunter, and I would love to see the resources we enjoy passed on to future generations as good or hopefully better than they were given to me. when I arrived at Tech for orientation I was still unsure what I wanted to do, but I felt like I understood what a future in engineering or construction would look like for me.
"During my orientation visit I went along with the Applied and Natural Sciences students to get a feel for what that future may hold. Ever since that weekend I have known where I wanted to be."
O'Neal will graduate with a degree in Geographic Information Systems (GIS) and minors in Forestry and Wildlife Habitat Management.
From forest management to wildlife conservation to police resource allocation, to database management and computer coding and so much more, O'Neal said his Tech education has provided him with a wealth of knowledge and opportunity.
"I feel this program will have me prepared for a successful career in many different related fields," O'Neal said. "I personally hope to be involved somewhere in wildlife and habitat conservation through GIS. My dream is to live a life spreading love for the outdoors and all it has to offer, and I hope to have a career protecting that resource so it can still offer the same things for generations to come."