Junior Caitlin Courtright knew from the start of her college career she wanted to work with children. The Human Development and Family Science major is in her third year at Louisiana Tech, and her study is focused on Child Life and Child Development.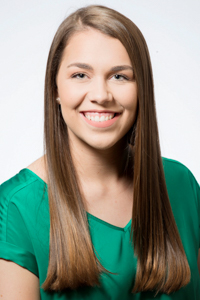 "When planning for college I was really unsure about what I wanted to study, however I knew that I wanted to spend my life working with children," Courtright said. "I had worked for many families as a babysitter and also helped in the kindergarten classrooms at my school. Once I was accepted to Louisiana Tech, I was immediately drawn to the Child Life program."
The professors and graduates in the program made all the difference in her choice, Courtright said. 
"When I came for orientation the summer before my freshman year, I met with Dr. Jones about working somewhere on campus, and she told me about the Early Childhood Education Center," Courtright said. "The very next day, Dr. Yates took me on a tour of the ECEC and then I applied to work there for the school year. I immediately fell in love with the kids and quickly learned so much from Mrs. Chestnut and Mrs. Tatum."
Courtright still works at ECEC everyday, and she has spent the past two summers working at Pine Cove in Tyler, Texas.
"Through the child life program at Tech, I have been able to go to conferences and workshops where I am able to gain even more knowledge about the profession," she said. "I am thankful for a school and major that encourages me to be a leader, try new things, and prepare me for the future."