Callie Ezell is a native of Delhi who is a senior Animal Science major with a Pre-Veterinary Medicine Concentration. She has applied to enter veterinary school at LSU and is awaiting results. Ezell has a special interest in exotic and livestock animals and emergency veterinary services.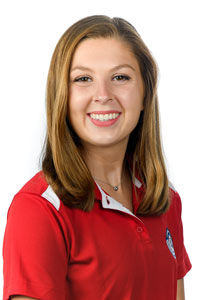 "I chose to attend the Louisiana Tech's School of Agricultural Sciences and Forestry because I toured South Campus and completely fell in love with everything the school had to offer," Ezell said. "This is the best pre-veterinary program in the state, and it's important to have a small family atmosphere and the opportunities to be close with my professors, and the benefits that come with that.
"Now that I am in the program, I have gained leadership positions and opportunities that I would not have gotten anywhere else. The curriculum and teachers are dedicated to giving the best education possible to prepare students for their desired route into the workforce. This school really is a unique place and will always have a place in my heart."
Ezell is Vice President of the Pre-Veterinary Medicine Club, an Agricultural Ambassador, and a member of the mascot care team. She is also a student-athlete on the women's cross country and track and field teams and represents the women's cross country team for the Student Athletic Advisory Committee (SAAC). She is also the SAAC Community Service Designee for the women's cross country team. Ezell is a three-time recipient of the Conference USA commissioner honor roll recipient and three-time Conference USA academic medalist. She was awarded the Leigh Ann White Memorial Scholarship in 2019 and the T.W Ray Johnson Scholarship in 2020.
"I work at the Louisiana Tech Swine Unit and absolutely love my job," she said. "I came to Louisiana Tech with barely any animal experience, and I never would have imagined myself working with pigs, sheep, and chickens! I have grown so much personally, especially in my knowledge of handling animals – and I attribute my growth in that area to this job. I have also gained so much valuable hands-on experience that have prepared me for veterinary school while learning about how livestock fit into the world of veterinary medicine."
The opportunity to lead has been important to Ezell throughout her time at Tech.
"Holding leadership positions within the SASF, especially as the Vice President of the Pre-Vet Club, I see the faculty and students welcoming in freshmen every year," Ezell said. "I see the passion we all have for this program, and I wanted to play a major role in that this year. I know firsthand how early hands-on experiences sets students apart in the veterinary school application cycle. That is something the executive council of this club is passionate about this year, despite the hardships and struggles the pandemic has brought upon us."