A native of Lafayette, senior Biology major Cameron Robicheaux is also earning minors in Chemistry and Psychology and plans to attend medical school when she graduates.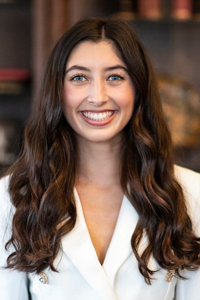 She became interested in the medical field when she was a junior in high school after participating in the AHEC program, where she shadowed different physicians for two weeks.
"I really had minimal interest in medicine or clinical work before this, but the program showed me that it is exactly what I wanted to do," Robicheaux said. "One day in particular, I was watching a double knee replacement and chatting with the anesthesiologist. I decided not long after that that I wanted to be a physician. The double knee replacement also showed me that I did not want to be an orthopedic surgeon."
Robicheaux took a tour of Louisiana Tech and fell in love with it.
"I saw myself finding a place there and making it home, and that is exactly what I have done," Robicheaux said. "Tech is home to me, and I can attribute so much of any success that I have had to this University and the opportunities that it has given me."
Robicheaux advises future students to persevere in college.
"It is much harder than high school, but it is possible and worth it," she added. "Keep your goal in mind, and it'll all work out. I'd also tell them not to forget to enjoy college. Studying is so important, but remember to take time to yourself and enjoy this time. I guarantee it is over before you know it."