Agricultural Education major Colby Bass grew up in Downsville, spending time as a member of the Future Farmers of America.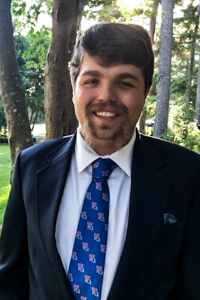 He said his involvement in FFA helped him find his true passion and learn the importance of agriculture.
"The Ag Education program at Louisiana Tech is next to none in terms of quality and experiences," Bass said. "I have received valuable hands-on experience that will be crucial in my classroom. I have been taught new and innovative teaching techniques that will help me connect with all students. Coming to Louisiana Tech was the best decision for my future."
Bass credits his advisor, Track Kavanaugh, for being a cornerstone in his education.
"His endless advice, stories, and encouragement has kept me passionate in the pursuit of my goals," Bass said. "I would also like to thank Benny Hennen, Waggoner Russell, and Trip Morgan for hiring me at the Louisiana Tech Beef Unit. The job has given me extensive hands-on experience with working in a cattle operation. I will take these experiences and direct them into the classroom to help my students gain a better understanding."
His parents have also had a great influence on his educational journey, Bass said.
"My mother and father never went to college, but they were able to support me enough to help me accomplish this dream," Bass said. "Without them I would have never been able to make it to Louisiana Tech. I have absolutely loved my time at Tech and would never change anything about what I have learned."