Donna Blady has been a registered nurse for 23 years. She has practical experience in post-acute rehabilitation and women's services in hospital and clinic settings.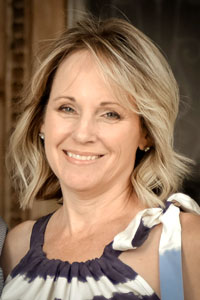 Blady currently works as a risk manager and resident liaison at University Medical Center New Orleans (UMCNO). One part of this dual role includes identifying trends that require process improvements to ensure safe and quality patient care is provided.
In 2015, the Enhancing Quality Improvement for Patients Rotation (EQuIP), was initiated by the graduate medical education office at LSU for accreditation purposes. LSU School of Medicine in collaboration with UMCNO, its major clinical teaching site, developed this clinical rotation to bring awareness of Quality Improvement (QI) among residents.
In her role as a liaison, Blady provides education and deliver hands-on, experiential training in QI, risk management and patient safety systems.
"I recently incorporated Mock Root Cause Analysis involvement and a Quality Hazard Room Simulation in the training exercises," Blady said. "Being an active contributor in this program is very exciting for me, especially when I learned that the Journal of the Louisiana State Medical Society will be publishing the manuscript we wrote, 'Innovating Graduate Medical Education at the Clinical Learning Environment: The Enhancing Quality Improvement for Patients Rotation.'" 
Blady's previous role as a Performance Improvement (PI) Nurse Analyst is the one that sparked her interest in obtaining a Master of Health Informatics degree.
"Abstracting patient records increased my awareness of quality reporting measures and the importance of communicating with providers, staff and IT to ensure documentation is complete and that the EMR works efficiently to provide safe patient care," she said. "In my current role as Risk Manager, gaining a MHI will allow me to expand my existing knowledge and utilize my clinical experience to assist staff and providers to deliver improved patient care by decreasing the incidence of medical errors, having easier access to clinical data, and consistent workflows."
After researching multiple programs, Blady said the choice to attend Louisiana Tech University was easy.
"It is located in Louisiana, the program is certified by the Commission on Accreditation for Health Informatics and Information Management (CAHIIM), and the offering of online courses allows flexibility to maintain a full-time job and successfully obtain a MHI," she said. "Participating in online courses for the first time produced a few challenges, but I was able to learn organizational skills and patience to help me through the process. The diversity of the classes helped create a foundation to enhance my career that uses technology benefitting both providers and patients and shapes the future of healthcare."