Elizabeth Martin, MS, RD, LDN is an Assistant Extension Agent and Registered Dietitian with the LSU AgCenter.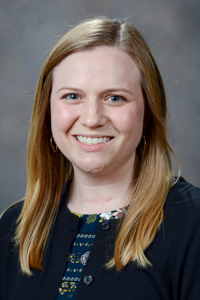 She serves as the EFNEP Supervisor for Caddo and Bossier parishes. EFNEP, the Expanded Food and Nutrition Education Program, provides nutrition education for limited-resource youth and families. Martin received her undergraduate degree in Nutrition from Louisiana State University.
She continued her education at Louisiana Tech University where she completed her Dietetic Internship and graduate degree. Her thesis was titled "Barriers Faced by Louisiana Dietitians when Counseling Overweight and Obese Patients," and her thesis research poster was featured at the 2017 Food and Nutrition Conference and Expo.
"With the knowledge and experience that I gained from the opportunity provided by the Louisiana Tech University Dietetic Internship, I am able to serve my community by educating individuals to live healthier lives," Martin said.
Martin was recognized as the 2019 Young Dietitian of the Year from the Louisiana Academy of Nutrition and Dietetics. She currently serves as President Elect for the Shreveport Academy of Nutrition and Dietetics and resides in Shreveport with her husband, Paul.
"The Louisiana Tech University Dietetic Internship provided a learning opportunity that laid the framework for a career in dietetics," Martin said. "The advanced rotations and hands on experience prepared me for all aspects of the dietetics field. Dawn Erickson, my internship director, was instrumental in assisting and supporting me to achieve my goal of being a Registered Dietitian."