Junior Animal Science major Emily Milbourn grew up in Hot Springs, Arkansas, in a family of medical professionals. She has always been interested in medicine, specifically animal science.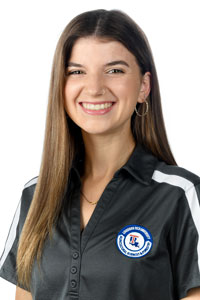 Milbourn has applied to the University of Missouri and Mississippi State University for vet school and is waiting to hear what her future holds. She is sure Louisiana Tech has prepared her well for whatever comes next.
"The veterinarian I worked for in high school attended Tech and encouraged me to look into it," Milbourn said. "I knew that I would have a better chance of getting accepted to out-of-state veterinary schools if I attended undergraduate school out-of-state. I was also offered a scholarship to join the Women's Cross Country team, but I needed to make sure that Tech would be a good fit for me academically. The final push for me to attend Tech came from touring South Campus and Tech Farm; I immediately felt that this is where I belonged."
Millbourn currently serves as Vice President of the Equestrian Club and is an active member of Alpha Zeta and the Pre-Veterinary Club. She also serves as an Agriculture Ambassador.
"I have had the opportunity to work at both the Swine Unit and the Meat Science Laboratory; these experiences have made me realize a passion for food animal medicine and meat science," she said. "I am currently working on a research project with Dr. Murphey tracking trends in beef dressing percentages and meat quality. I am also a student-athlete on the Women's Cross Country team. I have been on the Commissioner's Honor Roll and awarded the Commissioner's Academic Medal for two consecutive years."
Milbourn said Louisiana Tech and the School of Agricultural Sciences and Forestry have given her many opportunities that have shaped her career goals.
"I cannot express enough gratitude to the professors, advisors, teammates, and friends who have made my time at Louisiana Tech truly life-changing," she added. "I have made personal and professional relationships through the School of Agricultural Sciences and Forestry that have given me opportunities in Animal Science. I have gained confidence and grown so much in my time at Louisiana Tech, due in part to the constant support and encouragement I have received here."
Immediately after veterinary school, Milbourn is interested in entering into the U.S. Army Veterinary Corps or one of a number of options.
"I could see myself working in the Food Inspection and Safety Services of the USDA, working for a large animal practice, in food animal production, or even getting a PhD and teaching one day," she added.