Evan Shane Hodge of Farmerville is a nursing major who chose the program at Louisiana Tech for its good reputation as a springboard for success in nursing.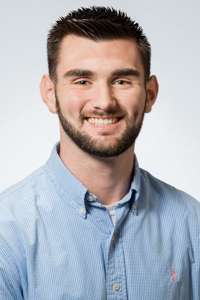 "Tech's nursing program is ranked No. 1 in Louisiana for their outstanding licensure pass rates," Hodge said. "This University also has some of the best faculty and resources and all are committed to preparing us for successful careers."
Hodge's mother is a graduate of the program, so he has an appreciation for the success that can come from an education in Nursing at Louisiana Tech.
"Ever since starting Louisiana Tech last Fall, this University as a whole has allowed me to grow in ways I didn't know were possible," Hodge said. "I have become a member of Tau Kappa Epsilon Fraternity, the Student Nurses' Association, and I also participate as one of the Parkinson Resource Center Student Scholars."
Hodge wants to have a career as a nurse in order to "make a difference in people's lives and to continue my love of learning.
"Since being accepted into Louisiana Tech's Division of Nursing last year, I continue to be challenged," he said. "Whether it's a new disease process, new skill, or a new patient, I am learning to adapt and expand my thinking. Nursing may not be easy, but there is not another major I would rather devote myself to than this."