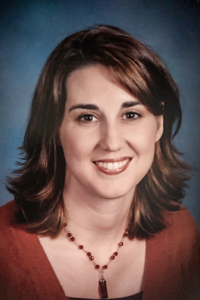 Kayla McGuire, a native of Bienville Parish, earned two degrees from Louisiana Tech University – her bachelor's degree in 1999 in Family, Infancy, and Early Childhood Education (concentration in Family and Consumer Sciences Education) and her master's degree in Family and Consumer Sciences Education in 2012. 
The veteran teacher worked for 12 years in parish schools in Evangeline, Jackson, and Lincoln parishes and served as the state director for Louisiana FCCLA from 2009-16. She is married and has two sons.
McGuire currently serves the LSU AgCenter as the 4-H Youth Development Specialist in Jackson Parish, providing educational programing for youth focusing on health, science, agriculture, and civic engagement.
"Academically Louisiana Tech truly prepared me for my career, and our University is continuing to do so to this very day," McGuire said. "The most significant influence that Louisiana Tech has had on my life is the people that I met while I was there. The connection I still have is priceless. The Human Ecology faculty continues to provide support through research and partnerships that assist me in developing education programing for youth and adults."