Senior Kelsey Shoemaker from Ashland wasn't always interested in agriculture, so her choice of Agricultural Business with a concentration in Plant Science is a bit of a surprise.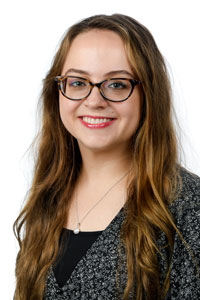 "As I reflect on the journey that led me to the agribusiness program at Louisiana Tech, I can't help but chuckle at the irony of it all," Shoemaker said. "Going into high school, I didn't have an agricultural background, and truthfully, I was completely disinterested in acquiring one. If it hadn't been for the persistent recruiting attempts of a dear friend, I never would have found my passion for plant science through Future Farmers of America (FFA). In my junior and senior year of high school, I was incredibly blessed to be a part of my FFA chapter's Nursery/Landscape team. It was that experience that opened my eyes to the fascinating intricacies of plants for the first time, and I quickly became immersed in a new world that begged to be explored. I knew that Louisiana Tech's unique Agribusiness/Plant Science program would enable me to build a platform for various career opportunities while continuing to pursue what I love."
FFA brought Shoemaker a dedicated mentor in the form of advisor Ryan Riley, who encouraged her to explore her interests in plant science.
"At Louisiana Tech, God has blessed me with yet another amazing advisor and mentor, Dr. Paul Jackson," Shoemaker said. "I've come to find that he believes in me more strongly than I believe in myself, and he demonstrates that by challenging me to embrace new opportunities. Having his support truly inspires me to pursue horizons that I never dreamed were achievable, as I hope to explore graduate school opportunities this year.  
"I am so grateful for him and all of the investments he is making in my life to prepare me for what lies ahead. Despite the uncertainty of what my future holds, I couldn't be more confident in my desire to make a difference in the lives of others in the same way that my mentors have for me."