A senior in Animal Science with a concentration in Equine Science, Krisxan Bell said the courses, experiences, and opportunities that she is receiving at Louisiana Tech are preparing her for a successful future in training horses.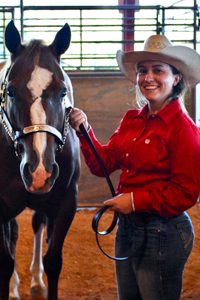 "For as long as I can remember, horses have been my passion," Bell said. "I grew up with horses and used every opportunity that I had to learn as much as possible about these beautiful animals. It was only natural that my career choice would involve horses." 
Most of the time, the aspiring horse trainer can be found in Reese Hall or at the Equine Center joking about how her small hometown of Saline is known for having only a caution light and growing watermelons and pine trees.She credits Douglas Madden of Saline High School for encouraging her to fulfill her dreams and attend college.
"I chose Louisiana Tech University because they have the best equine program in the state of Louisiana," Bell said. "I had no inclination to just sit in a classroom and listen to a professor talk about horses. I wanted hands-on experience. I didn't just want a degree for a job; I wanted experience for a career."  
Bell said Dr. Laura Roland Gentry's philosophy of learning the whole horse has allowed her to become knowledgeable about all aspects of the horse industry, not just the training side of it, which will be beneficial in any area of the industry she might eventually work in.   
Bell is a true ambassador for the school's equine program as well as the horse industry itself. She currently serves as the president of the Equestrian Club and Stock Horse Team. As an officer in the Equestrian Club for the past two years, Bell has assisted with the Horse Breed Extravaganza that the Equestrian Club hosts in conjunction with the North Louisiana Agri-Business Council's Ag Expo held in Monroe. She assists Gentry in teaching the equine handling portion of the Louisiana Animal Responder Boot Camps each year and has traveled to Carencro to assist in teaching a 4-H stock horse clinic. Bell was also one of a handful of students to represent Louisiana Tech at the Louisiana Women in Agriculture conference this year in Alexandria.
Bell has also served as Dr. Gentry's Teaching Assistant for the past two years.This has allowed her to further her knowledge and experience by helping other students learn about horses.
"I have always heard that you learn a subject by teaching it," Bell said. "While I am at the Equine Center helping students learn about building bonds and confidence with horses, I've gotten to observe the relationships that can be built between humans and horses. I've also had the opportunity to work with different horses, each with different styles and personalities, which only adds to my experience."
Although Bell ultimately wants to train horses, she is also considering furthering her equine education by attending graduate school.
"I definitely want to continue to work in the industry and promote horses, whether it be in the horse-training arena or some other aspect," Bell said. "Either way, I plan to work with horses for the rest of my life."