A 2017 graduate of Franklin Parish High School, Leslie McLemore was raised working on a family farm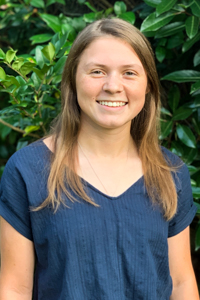 While working on the farm, her father introduced McLemore to many different people involved with the family business from production to marketing.
"Upon arrival at Tech, I was considering being a representative for a chemical company after graduation," she said. "As I began to take classes, my interests changed. I began to enjoy learning the plant side of agriculture. Learning how the seed germinates and grows sparked a new interest."
After graduation, McLemore would like to explore a career as a seed representative.
"Several upstanding men in my hometown attended Louisiana Tech and majored in Ag Business," McLemore said. "They told me many times how great the program and teachers were. Each gentleman had a very successful career, and I hope to one day be as successful as they were."
Throughout her life, McLemore has had mentors that shaped who she is today.
"One of those individuals is Mrs. Lloyd, a teacher during my junior high and high school career," McLemore said. "She showed me that no matter how hard I think a situation is, I can always stand tall and overcome it. Anytime I needed something she would always step in and help. From homework to words of advice, I could always count on Mrs. Lloyd."
Shane Carr with Ouachita Fertilizer has also been a strong mentor for McLemore; he has shown her "hard work and dedication will always pay off."
Finally, McLemore's parents have always pushed her to do her best throughout her college career.
"My dad was also my first boss, and my first job was helping him on the farm," she said. "This helped me learn how to work hard and complete tasks timely. Each one of these people has helped shape me into the person I am today."