Growing up in Little Rock, Arkansas, Madeline Rabalais had no access to Future Farmers of America (FFA) or other agricultural program. The Animal Science major came south to Louisiana Tech in order to pursue a degree after years of volunteering on weekends at the local animal shelters.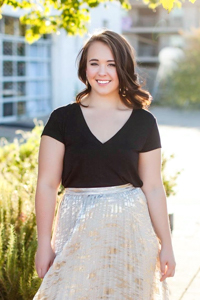 "Louisiana Tech has the best pre-veterinary program in the state of Louisiana, and their hands-on experience is what excited me about the program," Rabalais said. "Throughout my years at Louisiana Tech, I have made many valuable personal and professional relationships that have strengthened my decision to pursue Veterinary Medicine."
Rabalais is an active member of Louisiana Tech Block and Bridle, where she served as publicist her sophomore year and president her junior year.
"This club allowed me to develop my animal handling experience through our volunteer opportunities at the Louisiana State Fair and North Louisiana Ag Expo," Rabalais said. "Not only did I gain animal experience, but I gained friendships and research opportunities through my consistent activity in the club."
The summer following her freshman year, Rabalais participated in two small ruminant feed trials at Louisiana Tech. Her professor, Dr. Ashley Edwards, recommended her for an internship with the Texas A&M Research and Extension Station in Overton, Texas. There, she was assigned a research trial to conduct that focused on the influence of monensin in the diet of temperate and tropically adapted cattle on the ruminal and fecal metabolome and microbiome. She was also responsible for managing a breeding and calving season of around 300 head of Brahman cattle.
"I have recently finished my application process for vet school, in which I am applying to a multitude of schools, including Louisiana State University School of Veterinary Medicine and Texas A&M Veterinary School," Rabalais said. "Ultimately, I hope to obtain a Doctorate in Veterinary Medicine (DVM) and work for a large animal operation or explore careers in the field of animal research."