Bossier City native Molly Dickens is a senior in Animal Science with a concentration in pre-veterinary medicine. Her interests include the outdoors, hunting, softball and baseball. While continuing her education, a passion for animals has been her drive for all of it.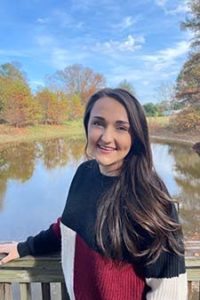 "Louisiana Tech and the School of Agricultural Sciences and Forestry have given me so many opportunities that have shaped me as a person and for my future career goals," Dickens said. "As a freshman pre-vet major, I came in with a narrow mindset of what the veterinary field consisted of. I knew that Louisiana Tech's pre-vet program was one of the best in the state, but the opportunities and knowledge that this school and program has taught me has exceeded all my expectations. 
Dickens is involved in the Pre-veterinary Club, Equestrian Club, and as the publicist for the Block and Bridle Club. During the 2020-21 school year, she was a student ambassador for the School of Agricultural Sciences and Forestry. So far during my senior year, she has served as a Coordinator of a Beef Research Project that evaluates the internal factors and production practices that affect the quality of meat harvest through the Louisiana Tech Meat Science Laboratory. She has also had the opportunity to be a teaching assistant for Introductory Animal Science classes, go to and speak at many recruiting events for the school, and much more. 
"I just applied to graduate school this past summer, so I plan to attend Veterinary School after graduation," Dickens said. "My future goal after graduate school is to become a large animal veterinarian with interest in research as well. I have so much gratitude and appreciation to all of the amazing faculty that has guided me to where I am now. Many of whom, like Dr. Mark Murphey and Gordon Reger, have become life-long mentors of mine. I attribute South Campus to broadening my career goals and allowing me to gain experience that I will cherish for the rest of my life."