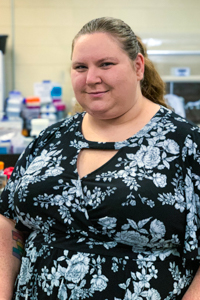 Morgan Nall, a master's candidate in the Molecular Sciences and Nanotechnology program, is originally from the small town of Monticello, Arkansas, but her dreams are big.
She found a passion for infectious diseases in high school through the study of historical diseases. Nall originally came to Louisiana Tech for her undergraduate degree in Engineering but stayed for the Biology program. One of Nall's favorite parts of her bachelor's program was the Microbiology lab.
That lab led Nall to pursue research opportunities, eventually choosing to do research with Dr. Rebecca Giorno-McConnell during her senior year. Nall graduated with her bachelor's degree in August 2018 and dove right into her master's to continue the undergraduate research project.
Nall says that two of the biggest and most fulfilling parts of her master's program are being a Graduate Assistant for the microbiology labs and her research involving Bacillus anthracis. She says that her favorite part of graduate assisting is the "aha" moment that her students have, and her favorite part of research is being able to combine two of her favorite parts of biology — bacterial studies and genetics.
The role of Graduate Assistant in microbiology has given Nall a passion for safety and quality control of research laboratories. Once Nall graduates this summer, she plans are finding a job to use this passion. Eventually, Nall hopes to work at the CDC to be at the forefront of identifying and treating new diseases.