Nicholas Ward remembers being asked what he wanted to be when he grew up.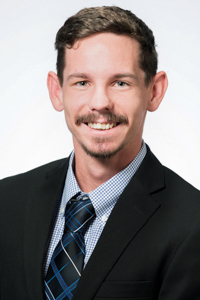 "I usually answered what everyone else did, a doctor, police officer, fire fighter, or even a veterinarian," Ward said. "As I grew older, the answer may have changed, but the reason never did — I wanted to help others."
Ward is a senior in Human Development and Family Science (HDFS) with a concentration in Family Science. Like many others in his major, he did not begin his college adventure in HDFS.
"I was originally a Music Education major and was very passionate about music, but I did not feel quite at home," he said. "I later resigned to help my partner, Carol Ward, pay for and pursue her undergrad in Mathematics and later her master's degree in Education. During this time, we began a family, and I explored many employment opportunities. I found myself climbing my way up using my leadership and communication skills but was still unhappy. I decided to re-enroll at Louisiana Tech and from there the only way was up."
Family and Child Studies stood out as a possible major for Ward. His new advisor, Amy Yates, seemed so excited to have him in the program.
"On my first day back, I remember being anxious about the new curriculum, but by the end of the day I had fallen in love," Ward said. "I had finally found what I had been looking for, the way I was going to help others. I had also never felt more welcomed by the faculty and my peers."
Ward currently uses the skills he learned in the classroom working with children between the ages 11 and 17 as a Mental Health Specialist at the United Methodist Children's Home in Ruston.
"Most days I will not feel like I worked at all because I am doing something that I love with individuals that share my same passion to help others. Many of the individuals I work with call me 'the nurturer,'" Ward said. "I believe it is because of my background as a father and the empathy and understanding of others obtained during the classes in HDFS. Without the opportunities Tech has provided me, I do not believe I would be the leader and role model I strive to be today."