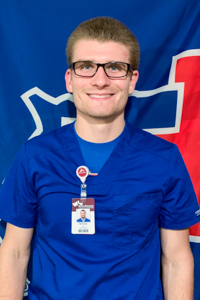 Medical Laboratory Science student Nick Reich is currently enrolled in a clinical laboratory rotation at the Willis Knighton hospital system in Shreveport.
Reich used to be a licensed pipe fitter and welder in high school. He chose his major because of an accident at work that led him to meet a group of medical laboratory scientists. 
He currently works at Willis Knighten as a laboratory assistant.
"After my undergrad, I plan on continuing my education at the University of Texas medical branch to become a Doctor of Clinical Laboratory Science (DCLS) and pursuing a career in laboratory medicine," Reich said.