Nicole Wright
Nicole Risinger Wright, RHIA is a 1994 graduate of the Health Information Management Program at Louisiana Tech University.
Nicole was raised in Spearsville, LA, and attended Louisiana Tech from 1990-1994. During her time at Louisiana Tech she was a student worker for the Louisiana Tech Athletic Department and a member of the Phi Mu Sorority.
Upon graduation, she married Chad Wright ('94 graduate of the Civil Engineering Program) and moved to Tyler, Texas.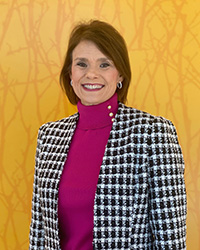 Nicole worked in an acute care facility as a Health Information Management Team Leader from 1994 – 1998.
In 1999 she began her career as a teacher at Tyler Junior College in Tyler, Texas. During her professional career as a teacher at Tyler Junior College she has served the Health Information Technology Department as a Program Coordinator and Department Chair. She served as Interim Department Chair for the Healthcare Administration Bachelor Program for one year.
She is currently serving as a Department Chair/Professor of Health Administrative Services and teaches in the Health Information Technology Program, Healthcare Administration Program, and Medical Office Management Program.
During her tenure at Tyler Junior College, she has had the opportunity to represent the Nursing and Health Sciences School at the Texas Association of College Technical Educators workforce committee meeting.
In 2021 Nicole was awarded The Mattie Alice Scroggin Baker Excellence in Teaching Award for Tyler Junior College. This award is to recognize the contributions of full-time faculty of TJC that provide student learning in our community.
She currently serves on the Health Informatics and Information Management Advisory Board at Louisiana Tech and the board for the East Texas Louisiana Tech Alumni Chapter.
She is a member of the following professional organizations: AHIMA, TxHIMA, AAPC, and Rose City Chapter of AAPC.
Nicole is very involved in the east Texas community. In the past she has been a member of Junior League of Tyler, the Women's Symphony League of Tyler, and volunteered for Christian Homes and Family Services, Tyler Rose Festival and Make a Wish Foundation. She currently serves on the East Texas Communities Foundation Scholarship Committee.
Nicole is a member of First Baptist Church and is actively involved with the Women's Ministry and Children's Ministry of her church.
Nicole is the mother of Hannah (husband Marc) – both graduates of Louisiana Tech, Ashlyn, and Hayden (current Louisiana Tech student).
She might be a transplant Texan but her Louisiana Tech roots run deep as she has many family members that are graduates of Louisiana Tech and she continues to enjoy her son's activities as he is a current student.
Ever Loyal Be!!