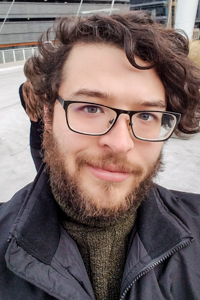 Minden native Norman Jesse Cone IV is a graduate student in Biology. He earned his bachelor's degree at Louisiana Tech in Winter 2019. 
"My family had a house 20 minutes out of town with lots of land that we played on when I was a kid," Cone said. "I think it was this upbringing that led me to the field of biology. I have always been fascinated in how phenomenon like sunlight can be harvested by plants to produce energy. When I learned that there was a funded master's position to investigate how drought can impact pine tree photosynthesis, I was immediately invested. After graduation I hope to work in nature conservation or tree nurseries, depending on where my fortune lands."
Cone advised students to work to find opportunities in their chosen field.
"I never would have taken this forestry graduate position if I hadn't interned as a forestry technician at Purdue University," Cone said. "I only got that job because I volunteered with professors at Louisiana Tech doing research. We have some amazing faculty here at Tech, and I am very thankful for the opportunities I have been given."
Cone emphasized that Tech's affordability made his journey possible.
"It wasn't until I was taking my required Biology classes that I began to feel fulfilled," Cone said. "Because of how affordable Tech is compared to other universities, I felt the freedom to switch my major at the end of my sophomore year. I flourished in the College of Applied and Natural Sciences. I worked with so many different faculty, and they each taught me valuable skills that I use to this day. I graduated my undergraduate with a 3.410 GPA, and now I'm on my way to finishing my master's with a 4.0. I never imagined myself earning a master's or being a straight A student, but Louisiana Tech University made it possible."