Railey Ellerbe is an Agriculture Business major with a concentration in Plant Science, and she is working toward certification in Geographical Information Science (GIS).  
Ellerbe grew up in the small town of Columbia in a farming family.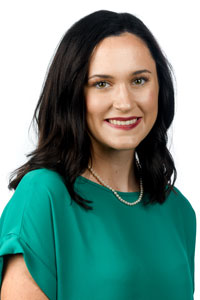 "Coming from a small, rural community, I was always surrounded by different aspects of agriculture – it was always just a part of life," Ellerbe said. "As a little girl, I took interest in helping my dad with a spring vegetable garden, and this interest soon escalated into helping him farm corn and soybeans. I always knew, even at a young age, that agriculture would always be a part of my life. Not until later though, did I realize how important these memories, experiences, and life lessons I learned from the field would be to me and how much they would impact my future and life goals."
From the moment Ellerbe toured Tech as a junior in high school, she knew she belonged in the Tech Family. She began her freshman year as a Biology major with intentions of minoring in Plant Science, but she didn't know how that interest would translate into a career.
"After entering my first quarter, I became involved in the Greenscape Club and was introduced to the School of Agricultural Science and Forestry at Louisiana Tech," Ellerbe said. "There, I spoke with Dr. Paul Jackson. He helped me understand how my interest in plant science could become a lifelong career. The environment of South Campus reminded me of home, and it also reminded me of what I loved the most which was what I had been surrounded by all my life. I realized then that this was where I was supposed to be, and I changed my major to Agricultural Business. I have never second guessed my decision of changing my major."
Ellerbe then started to explore other areas of study that could benefit her long-term goals.
"I have always found precision agriculture to be very interesting, but it was also intimidating to me because I do not consider myself to be 'tech savvy,'" she said. "After changing my major to Agriculture Business, I decided to go on a whim and take a Geographical Information Science class as a computer elective. I did not realize what I had gotten myself into with taking a computer science class of this nature. It was as though I was learning a new language.
GIS professor, Dr. Michael Crosby, helped Ellerbe to gain a new perspective on challenging materials, and this will stick with her throughout her future career. She plans to attend graduate school after earning her bachelor's degree from Louisiana Tech. 
"My goal is to pursue a career in plant and crop science and combine that with my knowledge of geographical information science and precision agriculture to make more advanced improvements in the area of crop production," Ellerbe said. "I am thankful for all Louisiana Tech has given me. Without the help and guidance I received, I do not think I would be where I am today. I am excited to see where this will lead, and I am grateful for all who have influenced and encouraged me along the way."