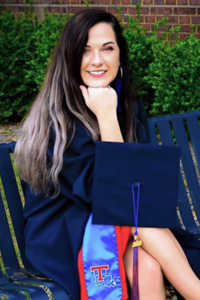 Vidalia native Randi Cox is a senior in the Health Informatics and Information Management program. She currently works at Franklin Medical Center where she's gaining experience that will relate to her major. Currently a secretary who handles the medical staff credentialing and privileging, she has gained experience in multiple areas since the facility is considered a rural hospital.
"I was trained to do grant writing, assist in Medicaid applications, and assist in the implementation of a new service that we now offer," Cox said. "The service we now offer is bioidentical hormone replacement therapy, and I'm so grateful that I was given the opportunity to assist with it because I can apply what I've learned from the HIIM program to it. I say this because now I currently handle the registration, coding, charges, billing, and inventory for the service which all correlate to what I've learned throughout the HIIM program."
Once Cox graduates, her leaders want her to implement a CDI program for the hospital.
Initially, pharmacy seemed to be the career path for Cox, but that was not to be.
"My great aunt and her daughter told me about the HIIM program and the need for HIIM professionals because of the conversion to electronic health records," Cox said. "I did my research and concluded that this degree would be perfect for me because technology has always been something I was accustomed to and enjoyed growing up."
After graduation, Cox plans to get her Master of Health Administration degree.