Ryan and Katy Haight graduated with their nursing degrees from Louisiana Tech, where they first met, in May 2013.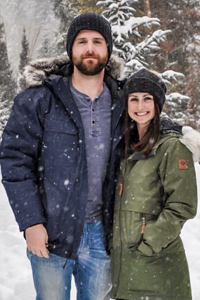 They married in November 2013 and spent two years in north Louisiana working to build their nursing foundation as emergency room and intensive care unit nurses.
The Haights always knew they wanted to combine their love of travel and nursing in some way.
In October 2015, they left their hometown of Ruston and started a travel nursing career that took them all over the United States.
From Washington to California to New Hampshire and back again, the Haights fulfilled their wandering hearts until they ended up in the mountains of Vail, Colorado. They love to ski, hike, camp, and enjoy all of the beauty Colorado has to offer and have been employees at Vail Health since January 2018. Ryan is currently an administrative supervisor, and Katy continues to work as an RN in the ICU.
"Follow your dreams and make the most of the limitless possibilities that nursing can offer," the Haights said. They are proud of taking the leap and choosing the lifestyle of adventure.
In the future, they hope to move back closer to family and their Louisiana roots, further their education, and start a family.