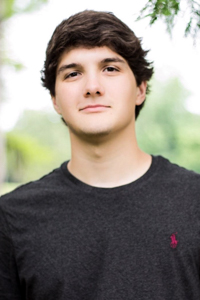 Ryan Rogers graduated from Caddo Magnet High School in Shreveport has always loved being outside. Because of his love of the outdoors, he chose to pursue a degree in Agricultural Business with a concentration in Plant Science.
"I have been around plants my entire life because my father owns a landscaping company," Rogers said. In the fall quarter, he worked as an intern at the Ruston Country Club, rejuvenating golf greens and learning applied cultural practices involved in turfgrass management. 
"I enjoy intramural sports immensely and play multiple sports every quarter," Rogers said. " Louisiana Tech has been a great place to attend college. and I will always remember the good times I've had here."
Rogers' father taught him the true meaning of hard work. 
"He has demonstrated to me time and time again what good work ethic takes on a daily basis," Rogers said. "My parents made a point to raise me to be a kind and loving young man. They showed me great example of what God's love is all about."