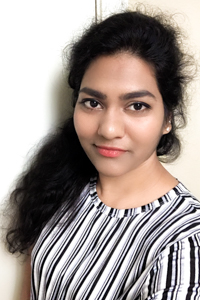 Sree Venigalla is a PhD student in Molecular Science and Nanotechnology working in Dr. Jamie Newman's lab. Her work focuses on gene and protein expression of the Mediator complex, which is a transcriptional coactivator in human adipose-derived stem cells.
The native of India has always loved doing research, "since I first did the blood typing experiment in high school."
Venigalla would like to pursue a post-doctoral research after she completes her PhD.
"I chose this program because it has the diversity to choose your area of research in the same program and also gain knowledge from other fields of science," Venigalla said. "My advice to future students is 'Come, enjoy and learn the aspects of biology that are taught through experience and practicality.'
"I am immensely proud of what I accomplished so far, and Dr. Newman helped me shape who I am today. Coming to Tech was one of my best decision. I gained some great friendships which make me feel like I'm home."