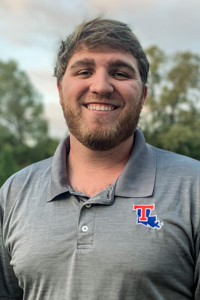 Calhoun native and West Ouachita High graduate T.J. Bratton originally came to Louisiana Tech to major in Engineering.
"After realizing that Engineering was not the plan for my life, I turned to the thing that I loved the most throughout high school," Bratton said. "All throughout high school I was heavily involved in FFA, I competed in different competitions ranging from forestry to welding. So, l I thought that I would become a teacher of agriculture and maybe change someone's life."
Bratton has been involved in many student organizations in his time at Tech, including Block and Bridle, Collegiate FFA, and Alpha Gamma Rho fraternity. His teachers have also made his time here memorable.
"Track Kavanaugh has been a major influence over the past four years, and I cannot thank him enough for everything that he has done for me," Bratton said. "I came to Louisiana Tech to feel like the professors and teachers cared about me and wanted to succeed. I have seen that and felt that over the years. The teachers constantly are checking in on me and care about my life after college and my future. It makes me feel like I am a real person and not just another number or statistic.
"That is something I feel is extremely unique to this university, and I will forever cherish the memories made and my time at Louisiana Tech University."