Taylor Linke of Spokane, Washington, transferred to Louisiana Tech University in 2018. She is now a Senior in Forestry with a concentration in Forest Management at Louisiana Tech.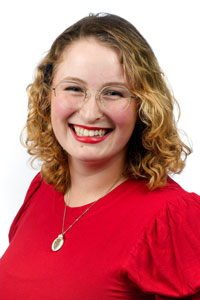 "I wasn't originally studying forestry, but once it found me, I knew it was a perfect fit," Linke said. "My professors all say that 'Forestry is an art, science, and business,' and I know that to be true. I was drawn to this field because I knew it would lead me to a lifetime of education, problem-solving, communication, and diverse opportunities to have an impact on people and the environment we live in."
Linke is the president of Women of Louisiana Forestry and Supporters (WoLFS), as well as an active member of Louisiana Tech's Forestry Club, Student Chapter of Society of American Foresters (SAF), Fraternity of Alpha Zeta (AZ), and Louisiana Forestry Association (LFA). She is also an ambassador of the Forestry program and a scholarship recipient of Resource Management Service (RMS), Mill Operations Technical Advancement Group (MOTAG), and Louisiana Forestry Association (LFA).
"South Campus really provides a lot of opportunities to get involved with your peers, develop professionally, and get hands on in your classes," Linke said. "Labs are when the lecture material clicks for me. That is what I love about this program – our professors make sure that we see, hear, and do everything we're supposed to learn, and the information we learn in one course supports the next."
Linke has completed two internships with International Paper in Mansfield, and Valliant, Oklahoma, and will be completing an internship with Resource Management Services in Jena after her graduation in May 2021.
"After I graduate, I hope to join a team that I am proud to be a part of and that values safety and environmental stewardship," Linke said. "I also hope to be able to make a difference by educating the public about working forests and forest products, as well as encouraging and supporting the success of minority groups in forestry. I know that there will be many opportunities available in the field of forestry, and that my professors and my professional mentors have prepared me to take on the challenges ahead of me."