Tim L. Holland was born and raised in Carthage, Texas, and grew up on a working cattle ranch. 
He is a 1976 graduate of Carthage High School and then went to Centenary College in Shreveport earning a bachelor's in Religion in 1980. Holland then enrolled in Louisiana Tech after working the summer of 1980 for his father-in-law Lee S. Mudd, a pioneer consulting forester in the Ark-La-Tex.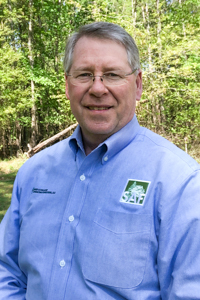 Holland worked in the woods with his father-in-law while attending Louisiana Tech and earned his BS in Forestry in 1983. He joined the Society of American Foresters as a student in 1981 at the encouraging of one of his professors, Dr. John Adams, and has been a proud member of SAF now for 38 years.
In his 39th year as a consulting forester, taking over the family business in 2012 after the passing of Lee Mudd. Holland has been able to grow the business each year with a client base of over 100,000 acres and 500 clients.
Holland has served as State Chair for the Society of American Foresters and has served the last four years as State Membership Chair.  
"The students need to know that there are people out there who want them to be successful," Holland said. "We all are working together to as caretakers of our environment, we have an awesome task before us."
Holland has sponsored the Tech Forestry Club to go to the National SAF Convention for several years so that students can exposed to the positive ideas and people the Society of American Foresters has to offer.