Nigerian Victor Ojo is a PhD student in the Molecular Science and Nanotechnology program working with Dr. Terri Maness. His research is focused on screening for microorganisms that breakdown organophosphate pesticides, and it also has an educational component. He would like to screen for novel organophosphate-degrading bacteria while promoting STEM engagement through undergraduate participation in the research.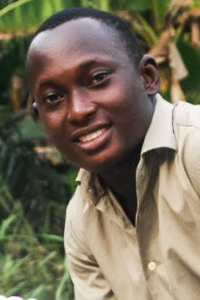 The oldest of six children, Ojo is married and earned his bachelor's degree in Microbiology from Obafemi Awolowo University and master's degree in Biology from East Tennessee State University.
"This program resonates with my background and exposes me to applicable principles from other fields such as engineering," Ojo said. "The MSNT program appeals to my fascination for innovation and interest in utilizing science knowledge for the utmost good. Because the MSNT program is interdisciplinary, I have the opportunity to interact with colleagues and faculty with various backgrounds."
Ojo said he is open to future employment in both academia and industry.
"Industry offers the opportunity for production that I love, and academia offers me the privilege of utilizing my experience, my love for teaching, and my desire to impact lives positively for a healthier and safer world," he said. "From my present research standpoint, whether I end up in academia or industry, I would love to help find solutions in bioremediation processes/situations and drive the enactment of better environmental safety policies."
His program offers students the opportunity to be guided by knowledgeable faculty who teach wonderful courses while helping them reach their career goals, Ojo said.
"Coming to Tech has been instrumental for helping me reevaluate and refocus my career goals," he added. "Therefore, I would advise future students to come checkout the program and school. If you can't visit, then reach out to faculty or students alike, they will be willing to tell you more."