Louisiana Tech to launch 2015-2016 New Frontiers in Biomedical Research series
Interdisciplinary collaborations, alumni spotlights and features, and research discussions by renowned guest speakers will form the foundation for the 2015-2016 edition of the New Frontiers in Biomedical Research seminar series at Louisiana Tech University. A presentation by Dr. Michelle Dawson titled, "Mechanics and Malignancy: Biophysical Approaches for Understanding Cancer" will begin the 2015-2016 series on September 21. Dawson, an assistant professor of chemical and biomolecular engineering at the Georgia Institute of Technology (Georgia Tech), is a 1999 biomedical engineering alumnae of Louisiana Tech.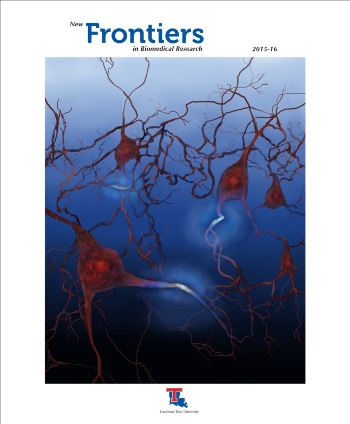 All seminars this year are open to the public and will begin at 3:30 p.m. in University Hall on the Louisiana Tech campus. Lectures will also be recorded and can be accessed through the College of Engineering and Science's Events web page at http://coes.latech.edu/about-the-college/events.php. The New Frontiers in Biomedical Research seminar series is co-organized by Dr. Jamie Newman, the Scott Weathersby Endowed Professor in Zoology and Premedicine, and Dr. Mary Caldorera-Moore, assistant professor of biomedical engineering. The series is once again sponsored by the Lincoln Health Foundation, Louisiana Tech's College of Engineering and Science, the College of Applied and Natural Sciences, the Center for Biomedical Engineering and Rehabilitation Science, Sigma Xi, and generous donations from members of the community. New sponsors this year include the Office of the President at Louisiana Tech, SciTEC and the College of Education, and the Office for Women in Science and Engineering. Louisiana Tech President Les Guice has been a strong supporter of the series since its first year and has met with nearly every presenter and guest. "I am very pleased that the faculty organizers have pulled together another great slate of speakers that will benefit our campus community through a deeper understanding of excellent biomedical research that is taking place around the country," said Guice. "I encourage everyone who has a passion for research to take advantage of the opportunities that are being provided and I thank all of the sponsors for their support." In addition to involving the scientific disciplines, the New Frontiers in Biomedical Research series involves a new collaboration with Louisiana Tech's School of Design through the design and illustration of brochure covers and note cards for the series. Nicholas Bustamante, associate professor of studio art, worked with Newman and Caldorera-Moore to create cover art and imagery to be used in advertising and gift presentations to the seminar speakers. This collaboration will continue with a new course Bustamante is offering in digital painting during the winter 2016 quarter where students will work with Newman and Caldorera-Moore to design new imagery for the 2016-2017 seminar series. Work generated in this class will be displayed in an art exhibition at the Louisiana Tech Enterprise Center during the spring 2016 quarter, and will include a visit from professional medical illustrators who will spend some time visiting with faculty and students on campus. "Through this class students will learn the value of digital art as a visual means of communication and its role in scientific research," said Bustamante. "Students will also develop important skill sets that can be applied to a variety of professions and gain the real world experience of working with a client." For more information on the 2015-2016 New Frontiers in Biomedical Research seminar series, contact Newman at jjnewman@latech.edu or Caldorera-Moore at mcmoore@latech.edu. Additional information as well as a complete schedule of seminars and events can be found at http://biomedicalresearch.wix.com/new-frontiers.