COLLEGE OF APPLIED & NATURAL SCIENCES
Undergraduate Program
Health Information Management (HIM) professionals play a critical role in maintaining, collecting, protecting, and analyzing data that physicians, nurses, and other healthcare providers rely on to deliver quality care to patients. As the healthcare industry steadily moves toward electronic management of information, there is a need for individuals who possess the technological skills to work in this environment. HIM professionals use their knowledge of information technology and records management to form the link between clinicians, administrators, technology designers and information technology professionals.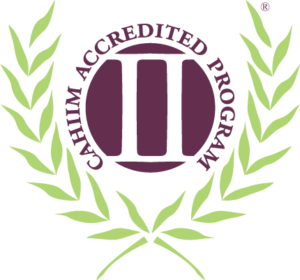 Having skilled HIM professionals on staff ensures an organization has the right information on hand when and where it is needed, while maintaining the highest standards of data integrity, confidentiality, and security. Knowledge of regulatory and reimbursement requirements also make HIM professionals valuable for compliance with various governmental and non-governmental rules and regulations.  Health information management (HIM) professionals work in a variety of different settings and job titles. They often serve in bridge roles, connecting clinical, operational, and administrative functions.
HIM programs incorporate the disciplines of medicine, management, finance, information technology, and law into one curriculum. Because of this unique mixture, HIM graduates can choose from a variety of work settings across an array of healthcare environments.
The program is accredited by the Commission on Accreditation for Health Informatics and Information Management Education (CAHIIM). Students who complete the program are eligible to sit for the registration examination of the American Health Information Management Association during their last quarter of study. Graduates who pass this examination may use the credential RHIA, Registered Health Information Administrator. The program's attrition rate is 18 percent, the graduation rate is 57 percent, and the graduate satisfaction rate is 100 percent.
Additional information about the HIIM profession can be obtained by visiting the website of the American Health Information Management Association.
Degree progression
Students will begin the program by taking General Education Requirement (GER) courses and will complete their HIM courses primarily during their last two years of study. Milestone examinations are also required for all students. Scores from these exams will count toward the final grade in HIM 478A (taken during the last quarter of study). These five exams must be proctored and will be taken after completion of a course sequence: Milestone exam – Course sequence
HIM 110, HIM 370, HIM 371, HIM 250
HIM 207, HIM 251, HIM 252, HIM 345, HIM 445
HIM 129, HIM 229, HIM 329, HIM 429
HIM 411, HIM 430, HIM 455
HIM 333, HIM 433, HIM 417
Students must complete each course required in the curriculum with a "C" or better (HIM, general education, etc.). If a student earns less than a "C", the course must be re-taken. Students must successfully complete all course work prior to registering for HIM 478A and HIM 478D.
Health Informatics & Information Management Curriculum
Continuing education and volunteer hours
To maintain an RHIA credential, continuing education hours are required. In preparation for this, students are required to obtain six hours of continuing education prior to graduation. These hours can come from attendance at professional HIIM-related seminars, field trips to healthcare facilities, "Coding Clinic" quizzes, and many other opportunities. Students are also required to obtain 4 hours of volunteer service. This service can be obtained via Sigma Rho Alpha (the student HIIM association), working health fairs, St. Jude radiothon/5k, etc. These hours will count toward a grade in HIM 478A.
Minor
The department offers two options for a minor. For students enrolled in the Nursing program at Louisiana Tech, the following courses are required for a minor: HIM 103, HIM 129, HIM 229, HIM 371, HIM 345, and HIM 417 for a total of 18 semester credit hours. Non-nursing majors must take HIM 110, HIM 229, HIM 250, HIM 345, HIM 370 and HIM 371, for a total of 18 semester credit hours.
Loading…
Information for prospective transfer students
Transfer students may send UNOFFICIAL transcripts to Kesia Mardis (khardy@latech.edu) to receive a preliminary evaluation of transfer credit. Please understand that this may take up to two weeks to receive final determinations from various departments. The deadline for submitting transcripts for evaluation of transfer credit is as follows:
Aug. 1 for fall quarter enrollment
Oct. 1 for winter quarter enrollment
Feb. 1 for spring quarter enrollment
May 1 for summer quarter enrollment
A Plan of Study will be completed for each student currently enrolled in our program; however, any prospective students requesting a plan of study must apply for Admission and have OFFICIAL transcripts sent to the Registrar's office according to the deadlines established by the Office of Admissions.