COLLEGE OF APPLIED & NATURAL SCIENCES
Undergraduate Program
Health Information Management (HIM) professionals play a critical role in maintaining, collecting, protecting, and analyzing data that physicians, nurses, and other healthcare providers rely on to deliver quality care to patients. As the healthcare industry steadily moves toward electronic management of information, there is a need for individuals who possess the technological skills to work in this environment. HIM professionals use their knowledge of information technology and records management to form the link between clinicians, administrators, technology designers and information technology professionals.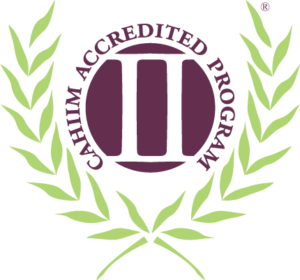 Having skilled HIM professionals on staff ensures an organization has the right information on hand when and where it is needed, while maintaining the highest standards of data integrity, confidentiality, and security. Knowledge of regulatory and reimbursement requirements also make HIM professionals valuable for compliance with various governmental and non-governmental rules and regulations.  Health information management (HIM) professionals work in a variety of different settings and job titles. They often serve in bridge roles, connecting clinical, operational, and administrative functions.
HIM programs incorporate the disciplines of medicine, management, finance, information technology, and law into one curriculum. Because of this unique mixture, HIM graduates can choose from a variety of work settings across an array of healthcare environments.
The program is accredited by the Commission on Accreditation for Health Informatics and Information Management Education (CAHIIM). Students who complete the program are eligible to sit for the registration examination of the American Health Information Management Association during their last quarter of study. Graduates who pass this examination may use the credential RHIA, Registered Health Information Administrator. The program's graduate satisfaction rate is 100% (2021-2022), the graduation rate is 61% (2021), and the employment rate is 83% (2021-2022).
The Health Informatics and Information Management accreditor of Louisiana Tech University is the Commission on Accreditation for Health Informatics and Information Management Education (CAHIIM). The College's accreditation for Bachelor of Science degree in Health Informatics and Information Management has been reaffirmed through 2027-2028. All inquiries about the program's accreditation status should be directed by mail to CAHIIM, 200 East Randolph Street, Suite 5100, Chicago, IL, 60601; by phone at 312.235.3255; or by email at info@cahiim.org.
Additional information about the HIIM profession can be obtained by visiting the website of the American Health Information Management Association.
Curriculum
Students must complete each course required in the curriculum with a "C" or better (HIM, general education, etc.).  If a student earns less than a "C", the course must be re-taken.  Students must successfully complete all course work prior to registering for HIM 478A and HIM 478D.
Health Informatics & Information Management Curriculum
Minor
The department offers two options for a minor. For students enrolled in the Nursing program at Louisiana Tech, the following courses are required for a minor: HIM 103, HIM 129, HIM 229, HIM 371, HIM 345, and HIM 417 for a total of 18 semester credit hours. Non-nursing majors must take HIM 110, HIM 229, HIM 250, HIM 345, HIM 370 and HIM 371, for a total of 18 semester credit hours.
Loading…