Students, faculty win majority of awards at annual LBRN meeting
Louisiana Tech students and faculty won five of the eight awards presented at the recent Louisiana Biomedical Research Network (LBRN) meeting at the LSU Health Science Center in Shreveport.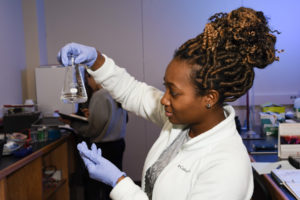 Members of Dr. Jamie Newman's research lab took home four of those awards. Instructed by Newman, assistant professor of biological sciences, the Newman Lab is made up primarily of undergraduate students, along with graduate students enrolled in the master's degree program in either biological sciences or molecular science and nanotechnology (MSNT), or in the doctoral program in MSNT. Students in the lab have the opportunity to work on research projects, present at local and national conferen ces, and write and receive competitive grants that provide them with a stipend or support for their research projects. Seven Newman Lab students attended the conference and presented on their current research projects. Additionally, students Rachel Eddy and Matt Busby presented on the work they did as part of the selective LBRN 2017 Summer Undergraduate Research Program.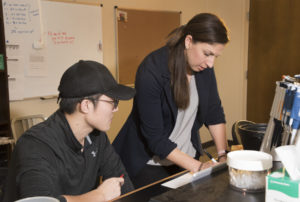 The LBRN is a statewide organization funded through the National Institutes of Health that serves to promote biomedical research in the state. It has been a significant source of funding for Newman and her students for the past three years. "The LBRN meeting is always an opportunity for me to thank my students in a public setting," Newman said, "and the fact that they all showed up, dressed professionally, and were early to the meeting made that easy to do as they sat in a row supporting me and one another." The success of the lab and hard work of the students was illustrated during the awards presentation. "I could not be more proud," Newman said, "of what all of my students have achieved." Here are the winners:
Newman: Best oral presentation;
Mary Caldorera-Moore, assistant professor in biomedical engineering: First place, faculty poster presentation;
Joseph Straub: First place, graduate poster presentation. Joseph is a Ph.D. candidate in MSNT from Natchitoches;
India Pursell: First place, undergraduate poster presentation. India is a junior biology major from Slidell and recipient of the Louisiana Board of Regents Supervised Undergraduate Research Experience Award in 2017;
Matt Busby: Second place, undergraduate poster presentation. Matt is a senior biology major from Shreveport who was admitted to LSU Health School of Medicine in Shreveport and will begin studies there in the fall.
Visit the Newman Lab web site at
https://latechnewmanlab.weebly.com/the-lab.html