COLLEGE OF APPLIED & NATURAL SCIENCES
Hinckley Virtual Anatomy Lab
The heart of the Justin and Jeanette Hinckley Anatomy Lab is the Anatomage Table, the most technologically advanced 3D anatomy visualization and virtual dissection tool for anatomy and physiology education yet created. It works on an operating table form and combines radiology software and clinical content to offer students opportunities to learn at every level, from dissection to studying the body at a single-cell level.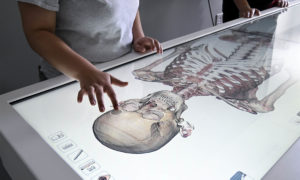 The table contains digitized versions of actual humans who donated their bodies to science and to the development of this technology; the table uses the same technology for select animal "cadavers." Currently available for students are more than 1,600 MRI and CT scans of human and animal development and injury, and more will be downloaded when available as the technology develops and expands.
Pre-vet, pre-med, Biological Sciences, Kinesiology, Nursing, and other health sciences students will benefit from a lab that will impact the whole campus. When the room is not being used for a specific class, it will have posted hours available for reservation by other faculty from across campus and for students to use as a study hall.
The lab is set up for 24 students and has a class set of iPads that will have the Anatomage companion app, the app for the anatomy and physiology textbook, and 3D4 Medical, an app with built-in modules to complement what is accessible through the textbook, lecture, lab, and Anatomage table. Four large monitors are on the walls for easy viewing of images on the table. Both the table and the accompanying software are used by medical schools across the country and will help prepare students for their future in medicine, healthcare, and research.
How the Virtual Anatomy Lab came to be