Poinsettia show, auction sets fundraising record for student scholarships
800×600 Normal 0 false false false EN-US X-NONE X-NONE MicrosoftInternetExplorer4 /* Style Definitions */ table.MsoNormalTable {mso-style-name:"Table Normal"; mso-tstyle-rowband-size:0; mso-tstyle-colband-size:0; mso-style-noshow:yes; mso-style-priority:99; mso-style-parent:""; mso-padding-alt:0in 5.4pt 0in 5.4pt; mso-para-margin:0in; mso-para-margin-bottom:.0001pt; mso-pagination:widow-orphan; font-size:10.0pt; font-family:"Times New Roman","serif";}
Christmas came early for Louisiana Tech University's Department of Agricultural Sciences as its annual Poinsettia Show and Auction earlier this month at Squire Creek Country Club raised a record $16,175 which will be used to fund student scholarships.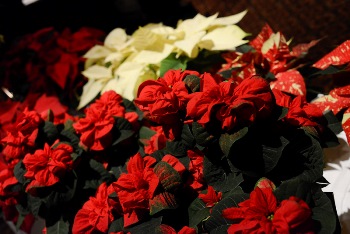 "The event went great," said department head Dr. Gary Kennedy. "Auction proceeds were up from the $15,000 that we brought in last year, plus we had several other donations for as much as $500 and all of those helped bump the total proceeds from the event up to a little more than $18,000."
A stained glass artwork piece featuring a poinsettia and Tech Bulldog created by former Louisiana Tech Vice President Dr. Virgil Orr was also auctioned off for a $1,000.
"But surprisingly, that wasn't our biggest auction price," Kennedy said. "We had a lot of two poinsettia trees that went for $1,050. The auction goes to fund scholarship and then the regular poinsettia sales go to fund the greenhouse, so Christmas is a very important time of year for us."
Poinsettias are currently on sale at the Tech Farm Salesroom during its normal operating hours of 9 a.m. – 5:30 p.m. Monday-Friday.
"There are still all kinds of nice poinsettias available," Kennedy said. "The proceeds we make from those are crucial, too, because that goes to the greenhouse fund to keep it maintained throughout the year. It's these poinsettia sales that make the greenhouse pretty much self-supporting as far as finances go. We try not to use state money for that."
Written by T. Scott Boatright – boat@latech.edu