COLLEGE OF APPLIED & NATURAL SCIENCES
College of Applied and Natural Sciences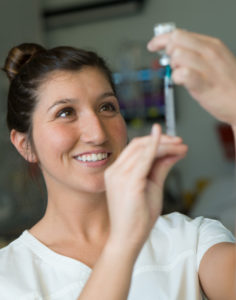 The College of Applied and Natural Sciences (ANS) at Louisiana Tech University provides students with skills that will help them succeed in the workplace and beyond. Faculty and staff are focused on student success, and they help our students to learn critical thinking and analytical reasoning skills, to conduct research and inquiry, and then to communicate their scientific advances in an effective manner.
Through service to local, state, national, and global communities, ANS students, faculty, and staff seek to increase the University's impact on our world.
In 2016, ANS celebrated its 20th anniversary. The College was born from a merger of the College of Life Sciences and the College of Human Ecology. More than 1,800 students are enrolled in undergraduate and graduate programs in the College.
School of Agricultural Sciences and Forestry
Earning a degree in the areas of Agriculture and Forestry offers tremendous opportunities. Currently, jobs annually outnumber the available graduates by almost two to one.
The School of Agricultural Sciences and Forestry at Louisiana Tech offers numerous scholarship opportunities for incoming freshmen and current students. The faculty and staff are highly experienced in teaching, conducting research, and providing service to the community. Students can get involved on South Campus in student organizations, while gaining experience in student worker positions, and becoming part of the "South Campus Family," where everyone knows your name.
School of Biological Sciences
The School of Biological Sciences offers both undergraduate and graduate degree programs. Bachelor of Science degrees are offered in Biology, Environmental Science, and Medical Technology.  Minors are available in Biology and Environmental Science. Research opportunities are available to undergraduate students interested in obtaining research experience.
The Master of Science degree is offered in Biology and in Molecular Science and Nanotechnology (MSNT). Both the M.S. in Biology and the M.S. in MSNT graduate programs are available with a thesis research option or a non-thesis, primarily course-based option. We also offer the Ph.D. in Molecular Science and Nanotechnology.
Department of Health Informatics and Information Management
Health information is the data related to a person's medical history, including symptoms, diagnoses, procedures, and outcomes. Health information records include patient histories, lab results, x-rays, clinical information, and notes.
Health information management (HIM) is the practice of acquiring, analyzing, and protecting digital and traditional medical information vital to providing quality patient care. The academic program is a combination of business, science, and information technology.
HIM professionals are highly trained in the latest information management technology applications and understand the workflow in any healthcare provider organization from large hospital systems to the private physician practice. They are vital to the daily operations management of health information and electronic health records (EHRs). They ensure a patient's health information and records are complete, accurate, and protected.
Health information management (HIM) professionals work in a variety of different settings and job titles. They often serve in bridge roles, connecting clinical, operational, and administrative functions. These professionals affect the quality of patient information and patient care at every touch point ​in the healthcare delivery cycle. Health information professionals care for patients by caring for their medical data.
School of Human Ecology
The School of Human Ecology's mission is to explore and enhance the human experience through the context of families, nutrition, and merchandising. With a focus on promoting diversity and sustainability in a globalizing and ever-changing world, we endeavor to create competent and engaged professionals, contribute to scholarly research, and partner with and provide services for the community.
The School of Human Ecology has been an integral part of Louisiana Tech University since the university was founded in 1894. Currently, the School of Human Ecology houses one graduate program in Nutrition and Dietetics, one graduate certificate program in Dietetics, a post-baccalaureate dietetic internship, and three undergraduate programs: Human Development and Family Studies, Fashion Merchandising and Retail Studies, and Nutrition and Dietetics.
Division of Nursing
If you are exploring nursing as a possible major, there are a number of strong reasons to attend Louisiana Tech University. Our nursing graduates are highly recruited and are practicing throughout the world, and our faculty continues to provide cutting-edge experiences for our students in partnership with health care agencies across north Louisiana. We encourage you to visit us and learn about our tradition of excellence.
The Louisiana Nurses Foundation has recognized us as Louisiana's Undergraduate Nursing Program of the Year for two years in a row, and we have reported a 100 percent pass rate for the National Council Licensure Exam by all of its 2017 nursing graduates. The first-attempt pass rate average for Louisiana Tech nursing graduates over the past three years is 99 percent. The Division of Nursing is accredited by the Accreditation Commission for Education in Nursing (ACEN) and approved by the Louisiana State Board of Nursing (LSBN).
Contact
College of Applied and Natural Sciences
Prescott Memorial Library Room 913
Phone: 318.257.4287