Merchandising, consumer studies students create unique fashions
Several groups of merchandising and consumer studies students in Louisiana Tech's School of Human Ecology recently participated in a unique class project where they used only duct tape and magazines to design wearable dresses.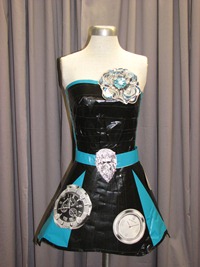 Students in a Product Development class were given an assignment to design a wearable garment using only duct tape and magazines. The garments were designed on a dress form, but had to come off the form and be worn by a person. The students worked in teams and were given just three hours to complete the design. "I'm not a designer at all, so when we were presented with this project my first thought was 'Wait, I can't sew,'" said Lauren Easley.  "It ended up being a lot of fun working with my classmates to create something unique.  I now feel like if I had to go back and piece it together with zippers and thread, I could." Lindsey Silva said that, with this project, she really feels like she is in the right major.  "Making the outfit really helped bring out my creative side and proved to me that it is possible to design an outfit out of just about anything." The Merchandising and Consumer Studies program at Louisiana Tech prepares students with knowledge and skills to work in both the manufacturing and retail areas of business. Housed in the College of Applied and Natural Sciences' School of Human Ecology, the program is designed for students interested in careers in merchandising, buying, sales, management, customer relations, public relations, or design.