Kinesiology, Agricultural Sciences students collaborate to beautify campus
Students from the Department of Kinesiology in Louisiana Tech's College of Education partnered recently with students from the agricultural sciences student organization, Greenscape, as well as staff from the Louisiana Tech Greenhouse for a "Plant & Trim Memorial Gym" project.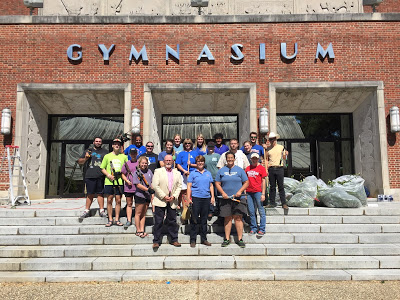 The group spent time planting a beautiful new plant and flower bed in front of Scotty Robertson Memorial Gym. Two kinesiology student organizations, ESPE – Exercise Sciences and Physical Education, and PEK – the Phi Epsilon Kappa Honor Fraternity Eta Eta, joined forces with Greenscape members with plants provided by Jacob Reichley and his Greenhouse staff. The collaborative project made for a fun filled day and provided a much needed "haircut" to the overgrown shrubs around the building. "The interdisciplinary nature of this unique collaboration has led to the beautification of our campus and a new partnership that may lead to other worthwhile initiatives," said College of Education Dean Dr. Don Schillinger. "It brings me great joy to see students and faculty working together, engaged in transformative and exciting activities that enhance the culture and environment of our university." The new plants and shrubbery will be maintained by the student organizations. Faculty and staff from the College of Education and the College of Applied and Natural Sciences hope this effort will serve as another reminder of the collaborative nature and "Tech Spirit" that students continue to exemplify through volunteerism. "When people collaborate across colleges, many great and wonderful outcomes can be accomplished," said Dr. Gary Kennedy, dean of Louisiana Tech's College of Applied and Natural Sciences. "When that effort includes students and the outcome is an enhanced physical environment on Louisiana Tech's campus, it is even more meaningful." All the project participants enjoyed music, pizza, and a great time. Many students walking through the area on their way to classes stopped to say "Thank you" to the volunteers.
Written by Lindsey Keith-Vincent – lbkv@latech.edu