New Frontiers series wraps up 2016-17 with Stanford professor, neurologist
Dr. John Huguenard, professor of neurology and neurological sciences at Stanford University and member of Stanford's Center for Mind, Brain and Computation, will visit Louisiana Tech University on April 10 for the final installment of the 2016-2017 New Frontiers in Biomedical Research lecture series. Huguenard will discuss his research in a presentation, titled "Real Time Control of Seizures in Animal Models of Epilepsy," at 3:30 p.m. in the auditorium of University Hall on the Louisiana Tech campus.  The presentation is free and open to the public.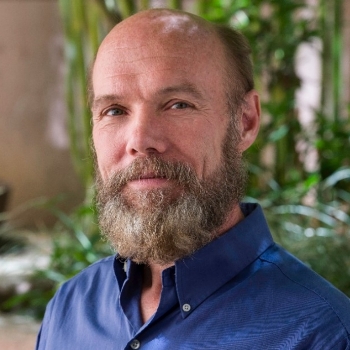 "Dr. Huguenard is a world renowned neuroscientist with critical contributions at the cutting edge of neurological science," said Dr. Leon Iasemidis, the Rhodes Eminent Scholar Chair and professor of biomedical engineering at Louisiana Tech.  "The underpinnings of his research are neurophysiological, pharmacological, neuroanatomical and computational. We look forward to Dr. Huguenard's talk and interactions with our neuroscience and biomedical engineering faculty and research groups here at Tech." Huguenard's research is focused on the neuronal mechanisms that underlie synchronous oscillatory activity in the thalamus and cortex, and are responsible for "cognitive processes, normal sleep activities, and certain forms of epilepsy."  Some of the most recent work out of his lab identified a naturally secreted protein in the mammalian brain that can help to halt certain types of epileptic seizures. Huguenard's work has been cited more than 15,000 times and is published in highly impactful scientific journals like Nature, Science, Neuron, Annals of Neurology and the Proceedings of the National Academy of Sciences.  He has received numerous awards including the American Epilepsy Society's Research Recognition Award and the prestigious National Institutes of Health (NIH) Javits Merit Award, and was most recently (2015) elected Fellow of the American Association for the Advancement of Science (AAAS).  His research is funded in part through NIH's National Institute of Neurological Disorders and Stroke and the Epilepsy Foundation. Huguenard's visit and presentation is sponsored by Louisiana Tech's Center for Biomedical Engineering and Rehabilitation Sciences (CBERS). As an interdisciplinary lecture series that focuses on advancements in the fields of biomedical engineering, biology, physics and chemistry, the New Frontiers in Biomedical Research seminar program strives to promote an understanding of human health and disease by interacting with leaders in these research fields.  The series also seeks to expose students to growing areas of research and to enhance Louisiana Tech's own impacts in biomedical research. Developed by Dr. Jamie Newman, assistant professor in Louisiana Tech's School of Biological Sciences, and jointly organized by Dr. Mary Caldorera-Moore, assistant professor of biomedical engineering, the New Frontiers in Biomedical Research series has brought many internationally known research leaders to Louisiana Tech and is now in its fourth year.  The series focuses on biomedical research with the intent of demonstrating the broad and interdisciplinary nature of this field of research. For more information on the New Frontiers in Biomedical Research series and access to recordings of all of the lectures, please visit our website:
http://biomedicalresearch.wixsite.com/new-frontiers
or contact Dr. Jamie Newman at
jjnewman@latech.edu
or Dr. Mary Caldorera-Moore at
mcmoore@latech.edu
.