'The Digital da Vinci' stars in 'New Frontiers' series set for March 19
Louisiana Tech's New Frontiers in Biomedical Research Series continues with a presentation from Scott Barrows, director of simulation programming at Jump Trading Simulation and Education Center at the University of Illinois College of Medicine at Peoria. The Jump Center is the largest medical simulation facility in the world.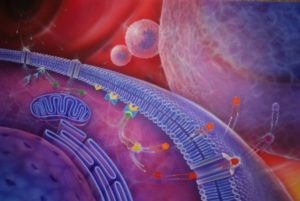 Presentation:
"The Digital da Vinci: Advanced Applications in Medical Visualization"
Monday, March 19, 3:30 p.m. in University Hall on the Louisiana Tech campus.
The event is free and members of the campus and local community are invited to attend.
Barrows' visit is sponsored by Louisiana Tech and Pre-Medical Illustration.
Barrows is a world-renowned medical artist with illustrations in more than 55 medical books and more than 350 journal articles. His passion for art, medicine, and technology has led him to become a visionary in biomedical imaging and visualization. He was previously Vice-President of Marketing at a biotechnology laboratory in Virginia and Vice-President of Creative at a medical software "think tank" in Nevada. Barrows was the Director of the Biomedical Visualization graduate program at the University of Illinois at Chicago Medical Center for numerous years and still serves on the adjunct faculty. He was also an assistant professor at the University of Texas Southwestern Medical Center in Dallas. An alumnus of three University of Illinois campuses (Chicago, Urbana-Champaign, and Springfield), Scott has been the recipient of numerous awards, including recognition from two U.S. Presidents, the Smithsonian Institution, and the University of Illinois Chicago. He is the co-creator of age-progression —a process used to find numerous missing children — and his artwork has been featured in galleries, museums, and health facilities around the world. Barrows was also a consultant for the 2002 George Clooney motion picture
Solaris
and has been an advisor and lecturer for Apple for many years. His work has been featured at Nobel presentations and included in the archives of the National Library of Medicine. This year the series continues to expand to a critical area beyond the research bench to explore related career paths and the responsibility of research and education. Barrows' seminar is hosted in partnership with Tech's School of Design and Professor of Studio Art, Nick Bustamante. Barrows' visit is supported by Tech and through the University's Visual Integration of Science Through Art (VISTA) program with funds raised through the Digital Art Exhibit and Auction and donations from members of the community. Barrows also serves as a member of the external advisory board for the VISTA program, which has developed a pre-medical illustration minor now being offered at Tech. More information about the VISTA program can be found at:
https://latechvista.weebly.com
or by contacting Bustamante at
nbustama@latech.edu
. Developed by Dr. Jamie Newman, assistant professor in Tech's School of Biological Sciences and jointly organized by Dr. Mary Caldorera-Moore, assistant professor of biomedical engineering, the New Frontiers in Biomedical Research series has brought many internationally known research leaders to Tech and is now in its 5th year. The series focuses on biomedical research with the intent of demonstrating the broad and interdisciplinary nature of this field of research. For more information on the New Frontiers in Biomedical Research series and access to recordings of all the lectures, please visit our website,
http://biomedicalresearch.wixsite.com/new-frontiers
, or contact either Newman at
jjnewman@latech.edu
or Caldorera-Moore at
mcmoore@latech.edu
.